PRIVATE COACHING – Call 212.315.3010
All skill levels!
At A Class Act NY, we believe that acting, like other disciplines, is a muscle that needs to be exercised. Whether your child is preparing for a role, an audition, or simply enjoys this fun and rewarding art form, our private coaches are available to work with your kids in your home or in a professional studio space.
Private Coaching with Artistic Director Jessica Rofé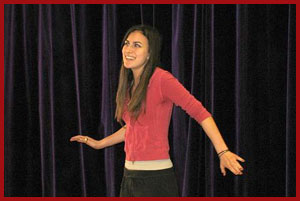 Jessica Rofé has been teaching both professional and amateur children for years. She has extensive experience having worked behind the scenes at talent agencies and as a casting director and knows firsthand what is expected of a performer. She helps students create living, breathing characters by breaking down text and analyzing intent and motivation in a supportive, nurturing environment.
We also offer private coaching with Jessica via Skype. To reach the office for rates and more information, please call 212.315.3010. Purchase 5 or more sessions and receive a discounted rate. Click here to read her bio.
Private Coaching via Skype also available.
Professional Vocal Coaching
Our vocal coaches are among the most well-regarded in the Broadway community. Email us for rates and more information about our coaches.
Private Dance with Broadway dancers
Email us us for rates and more information.
The Evaluation Lesson
If you're confused as to whether or not you should be pursuing a professional career or you simply want to know where your strengths and weaknesses lie, the evaluation lesson will be most helpful in guiding you in the right direction. After a one hour lesson, we will supply you with an extensive written evaluation of your child's skill level. We will provide you with our professional opinion. For general inquiries, email us
College Prep Privates
Auditioning for performing arts programs? Inquire about private lessons with Artistic Director, Jessica Rofé. Jessica went to the University of Michigan, one of the most prestigious performing arts programs in the country. Jessica knows what colleges are looking for in prospective students. Work with Jessica to find material that suits you and learn proper audition technique.
Consultation with Artistic Director, Jessica Rofé
Need professional advice? Jessica is a former casting director, agent and actor. Sessions are 30 or 45 minutes via phone or in the office.
Voice Over Reels
Looking to get into voice overs and need a reel? Work in a professional voice over studio with sound engineer and v.o. coach, Ryan Fagman.
To Register: Click Here