All skill levels!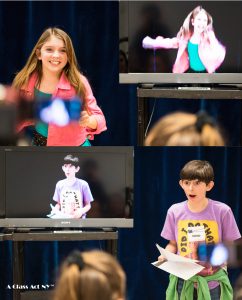 Great program for non-musical theatre kids!
Join us in Dallas for a brand new program! Introducing Character Camp: creating characters through Voice-Over technique, On-Camera acting, Improvisation & More!
Instructor: Broadway and On-Camera Performer and Producer, Ashley Kate Adams
In this comprehensive voice-over, on-camera, improvisation and scene study camp, actors will learn how to make bold and interesting character choices applicable to each medium. Whether it's stage acting, on-camera acting or voice-over acting, kids will learn to use their physicality and intellect to create compelling characters!
Workshops with an On-Camera, Voice-over and a Broadway actor/director Include:
• Commercial acting and audition technique    • Sitcom acting and audition technique    • Dramatic film and TV scenes    • Physicality and movement for actors    • On-camera auditions     • Scene study    • Voice-over for animated TV shows    • Voice-over for commercials
Final Showcase: Camp culminates in a final showcase of scene work and newly-learned skills for family and friends!
Ages: 8-18
Dates: Monday, July 24 – Friday, July 28
Time: 9 a.m. – 4 p.m.
Where: JCC of Dallas, 7900 Northaven Road, Dallas, TX 75230
Cost: 595.00
To register: Call Alise Robinson at 214.239.7140 or email Alise at arobinson@jccdallas.org